Bathing in natural mineral waters is accepted globally as a means to escape, unwind and immerse oneself for physical and psychological wellbeing. The Netbookings Bathing module allows people to book online whilst staff can also make bookings via the NB back end and with our POS system.
Clients can book their bathing experience online with a few clicks. Their preferences can also be packaged with other services such as meals, a tour and overnight stays.
Netbookings has developed specialised systems for bathing businesses that are early in development and also well established bathing operations.
Our Bathing module is time based with a quantity of people permitted to book online and a quanity of people assigned to walk-ins. The total of these two is the full capacity of the bathing area. Netbookings supports an unlimited number of bathing areas with different operating hours and pricing models.
There is also another option for off-peak and peak pricing on top of the hourly prices for seasonal varations in demand.
Example with 2 separate bathing areas and the various pricing models supported
General admission
|   | Morning | Standard | Evening |
| --- | --- | --- | --- |
| Adults | $35 | $40 | $45 |
| Child (5-15) | $30 | $35 | $40 |
| Child (0-4) | $10 | $15 | $15 |
| Family (2A + 2C) | $100 | $110 | $120 |
| Concession | $25 | $30 | $35 |
| Seniors | $20 | $25 | $25 |
Exclusive Bathing
|   | Morning | Standard | Evening |
| --- | --- | --- | --- |
| Adults | $40 | $50 | $45 |
| Seniors | $30 | $35 | $30 |
---
Capacity Management
Netbookings makes it easy for staff to manage capacity. They have complete control of total guests per hour and how many people are allowed to book online per session.
There is even an overflow allotment for walk-ins.
---
POS Fully Supported
Businesses can run the Netbookings POS system which is aimed at touch screen usage. This makes it very easy for staff to operate in busy environments.
Guest process:
Book online via the website
Guest receives an e-ticket which can be printed or scanned via a smart phone on arrival
Staff scan the ticket
Guests can hire a robe or purchase retails items
Entry is granted
---
Package bathing with other services
The Netbookings bathing module allows bathing to be part of a package with other services you provide such as: accommodation, food and beverages, tours, yoga, spa treatments and much more...
---
Passes
Sell passes or use them as an effective marketing tool. Guests can redeem them online or use them to gain entry on arrival.
A pass can be sold for any package you offer. A bathing pass is a special pass that can be redeemed by anyone.
---
Booking Agents
Agents can earn commission on sales or buy passes online at a discounted price.
Netbookings has dedicated reports for agent bookings and pass sales.
Read more about Booking Agent support >
---
There are many types of bathing experiences available around the world such as:
Hot Springs
Cool Springs
Swimming Pools
Lakes and Rivers
Most of the mineral springs around the world exist where limestone is present. Salts and sulfur compounds are often present and some of the springs have 'just the right' amount of the elements for people to bath in. Read more about mineral springs.
For hundreds of years people have been visiting naturally occuring springs and Netbookings provides businesses in this industry with the right software to operate smoothy with the guests comfort and safety always in mind.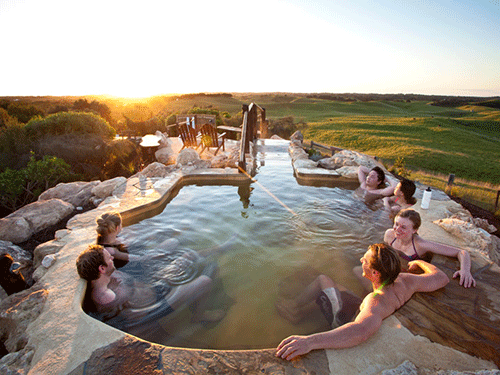 Day Visit Hot Springs